Understanding Plastic Recycling
Plastic, it's incredible! It's all around us. Hard to imagine a world without plastic. It's such a boon and allows us to do all kinds of things that were hitherto difficult or impossible. But, inevitably, there is a dark side. As easy and inexpensive as it is to produce, so is it difficult and expensive to dispose of once it has ceased to be usable. We can't just dump it and forget about it; it won't go away. The message from the Pope is clear, every one of us must be a steward of the earth. Each one of us can and must do our part to protect the world that we live in. Don't wait until you have no choice, be proactive! In last week's bulletin there was an introduction to a new feature we're calling the 'Green Corner', in which we plan to provide helpful hints and suggestions that you can incorporate into your daily routines to help us all to be effective stewards of our earth. If you missed last week's bulletin you can still read our initial thoughts on Climate Change, including a powerful prayer from Pope Francis, on St. Mary's website. This week we're scratching the surface of a big issue, the recycling of plastic waste.
Helpful Hint: Understand Plastic Recycling
You probably know this, but just in case, here's a quick overview of the labelling of plastic containers.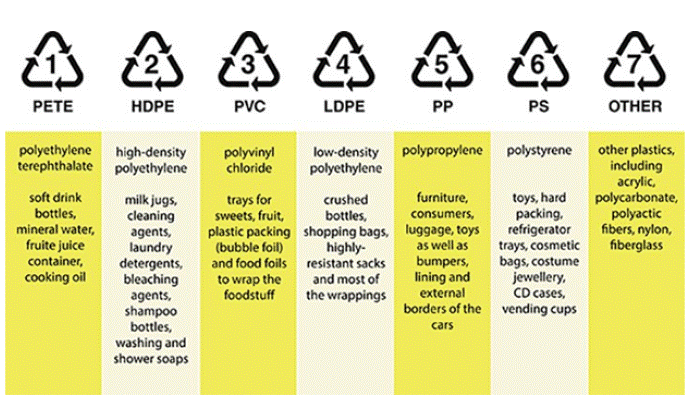 Look all around the plastic container for the number in the triangle. If you cannot find one do not recycle it. Also, remember that Just because it has a number does not mean that it can be recycled.
Recycle only #1 and #2 – in Burlington county add #5 to that list. All other plastics go into the regular trash.
Empty and wash bottles, jars and containers properly. Remnants of "biological matter" is called contamination and will likely cause the batch to be rejected.
Never put plastic bags or plastic bottle tops into recycling.
If you're in doubt about whether to recycle an item, put it in the regular trash.
Burlington County:
Plastic bottles, jars, & containers fo
r #1, #2 and #5
plastic
Camden County:
Plastic bottles and jars for ONLY
#1 and #2 plastic
Special notice:
Camden County has recently changed to only accepting #1 and #2 plastic items
. Both counties are urging residents to empty and rinse containers fully before placing them in the curbside recycling containers. The presence of moisture from food and liquid waste in containers has become a problem for single stream recycling as it lowers the quality of cardboard and paper. In addition, both counties remind residents to NEVER put plastic bags in recycling bins. They damage the machinery.
Check county websites for details.
WHY RECYCLE – TO REUSE - Your Recycled Plastics are used to make new products:
carpeting, backpacks, polar fleece jackets, sleeping bag and ski jacket insulation, plastic lumber, playground equipment, t-shirts, sweaters, sneakers, new bottles, buckets and containers
WHY RECYCLE – REDUCE YOUR CARBON FOOTPRINT
You can save 2400 pounds of carbon dioxide per year by recycling just half of your household waste.