Information updated on 6/3/2020
PUBLIC MASSES WILL RESUME AS FOLLOWS:
MASK REQUIRED FOR ENTRY*
(*2 years and up; Please contact the office for info about other exceptions.)

Weekday Mass (Monday-Friday) resumes in Main Sanctuary: Tuesday, June 9th*
(*Sign up required. 10 person limit for June 9th-June 12th Please contact the office by phone. No emails, please. After June 14th, 10 person limit is no longer in effect. No sign up required.)

Weekend Mass resumes: Saturday, June 13th at 5:00pm and
Sunday, June 14th at 8:00am, 10:00am, and 11:30am
Confessions:
Saturdays: 8:30am-9:30am; 4:00pm-4:45pm resumes on June 13th.
Appointments can also be made by contacting the office.
STREAMING WILL CONTINUE AT THE 10:00AM MASS.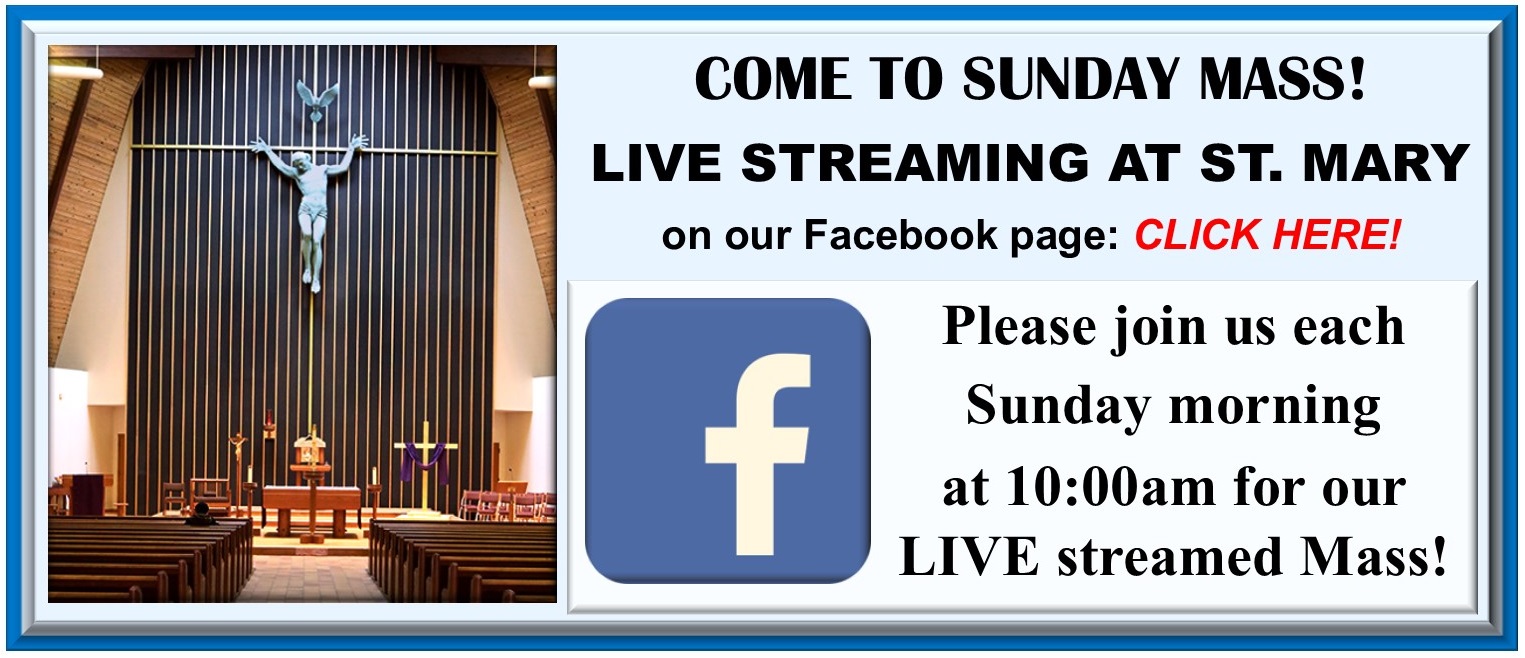 What do I do with my rice bowl? Please hold onto it for now. We will make an announcement when the church re-opens for returns. Thank you for your kind generosity!
---
PARISH INFORMATION

Office/Rectory: Phone: (856) 424-1454 Email: stmarycherryhill@gmail.com
Religious Education: Phone: (856) 424-2679 Email: stmaryreligiouseducation@verizon.net
Anointing of the Sick:
Please contact the Parish office by phone or email.

Mass intentions: All Mass intentions will be said privately by Fr. Paul and Fr. Dominic until Tuesday, June 9th. If you have any questions, please call or email the Parish office.
Religious Education Office
Pat Galie - Phone: (856) 424-2679 Email: stmaryreligiouseducation@verizon.net
Youth Ministry Office
Stan Thompson - Phone: (856) 424-0955 Email: sthompsoniii@aol.com
Office of Evangelization & Spirituality
Lisa Caso - Phone: (856) 424-1454 ext. 123 Email: lisacaso.stmarycherryhill@gmail.com