Online Giving
St. Mary's Parish has enlisted Parish Giving to provide its members with the opportunity to use Electronic Funds Transfer as an alternative method for giving. For more information

Parish Giving is being offered to you free of charge. At the same time, St. Mary's Parish will benefit from a reliable, more efficient and more convenient means to process the contributions that make it possible to support its ministries.

On this giving site, you will be able to select from the various opportunities to contribute to our parish and other initiatives.

Our parishoners can take advantage of the following features:
Ability to make one-time contributions

Ability to make recurring contributions

Ability to contribute to multiple organizations

Ability to select your billing date

Ability to use Credit Card or Bank Transfer

Ability to access end of year contribution reports
Please click
here
to be directed to Parish Giving which is St Mary's secure site for online giving.


The House of Charity – Bishop's Annual Appeal seeks to raise funds to provide care, respect, justice, peace and dignity for every soul in the Diocese of Camden. We ask that you prayerfully consider how this annual program provides solace, support and grace to thousands of your brothers and sisters in Christ and give, generously, in support of the 2018 House of Charity – Bishop's Annual Appeal.
Your support of the 2018 House of Charity – Bishop's Annual Appeal ensures the vitality of essential Diocesan ministries and programs
that sustain the healing, teaching and redemptive Presence of Jesus Christ through the Diocese of Camden.


Please click here to donate. You will safely be linked to the House of Charity Website.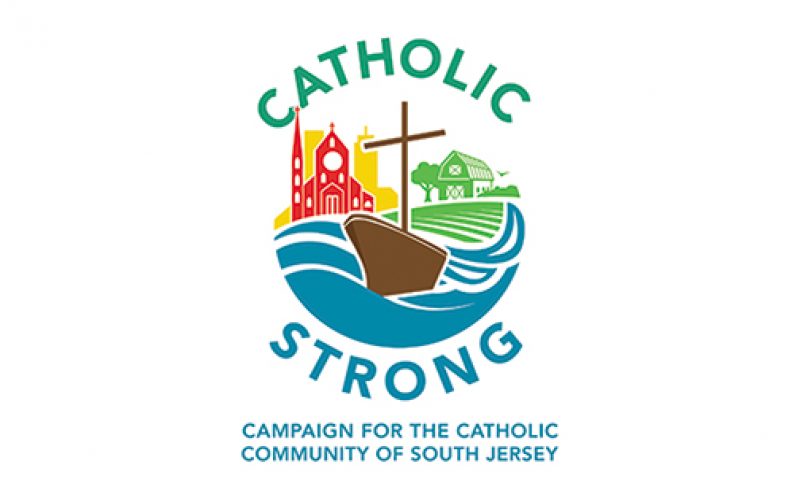 Our theme, CATHOLIC STRONG, is not just a slogan. It is a goal that we can reach together.

To accomplish this, we must: invest in evangelization programs, particularly crafted for youth and young adults; strengthen faith formation programs for families, adults and children; encourage professional development of parish ministers and staff; and continue to expand our social service efforts. In this way we bring the truths of our Catholic faith to more people; serve our neighbors spiritually and practically; and lay the groundwork for the future of the Church in South Jersey.

Ours is a joyful faith that follows the mission of Jesus Christ. CATHOLIC STRONG is a call to make His mission more present in South Jersey by building up the ministries of our parishes through programs of evangelization.

The Sunday Mass is central to our faith lives, and every Mass concludes with the dismissal "Go," which calls us to bring our faith to serve the needs of children; families; the poor; the immigrant; the refugee; the addicted; the struggling and burdened; and all women and men who look to the Church for spiritual assistance and support.

I ask each of you to prayerfully consider how best to contribute to your parish and the entire Catholic community of South Jersey so that we may become stronger missionary disciples. I hope you will ask questions, offer solutions and act as good stewards of our Faith. May we be CATHOLIC STRONG to ensure, now and far into the future, an active, engaged Church in South Jersey.

With gratitude for the privilege to serve you as your bishop and with firm hope for the future of our Church in South Jersey, I am,

Sincerely in Christ,

Most Reverend Dennis J. Sullivan D.D.
Bishop Of Camden

In order to donate please contact St Mary's at

stmarycherryhill@gmail.com

or contact Cynthia Maksin ,

Cynthia.Maksin@camdendiocese.org

UA-122004109-1